A relatively young style, skinny jeans, appeared not so long ago. Fist becoming popular a couple years ago, this trend is back and, needless to say, is quite popular. In this post we'll try to explain the things to remember when choosing skinny jeans and creating your outfit.[signy_about about_title="Choosing Your Perfect Fit" about_title_size="20px"][/signy_about]Before you create your outfit, it's very important to find the correct fit. Not all the skinny jeans are identical. You might want a pair with a certain amount of stretch (like spandex), or with no stretch at all. Try to walk around and ensure they sit perfectly around the waist – no space is left. Practice bending down, or even jumping to guarantee the jeans keep their form and are still comfortable.[signy_empty_space height="20px"]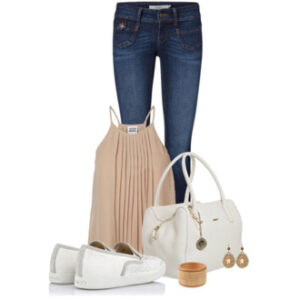 There is a common belief that skinny jeans can be only be worn by those girls who are in a perfect shape, because due to the fact that they are very tightly fit, all the discrepancies immediately come out in a double size. But the truth of course is, you just need to know what type of skinny jeans suits you best and makes you look perfect.
Skinny jeans look amazing with different kinds of boots (knee-high, ankle joint booties, slouchy boots) or heels. These types of footwear make your legs look very long and skinny. However, if you're an ultra-casual style lover, ballet flats will always look classy. Just be aware that they can make your legs look shorter. Avoid chunky footwear -it can make your toes look big and blocky.[signy_empty_space height="20px"]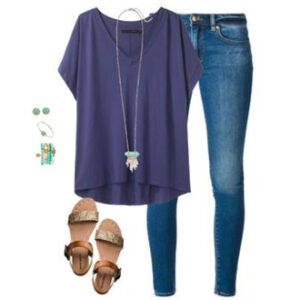 The top sets the scene. What you wear on top either makes or smashes the outfit. Mainly because skinny jeans are generally, well, skinny, many ladies prefer to balance out the design with a voluminous top that goes down to about mid-thigh or simply below the buttock.
Women who want to hide their hips may opt for a tunic-style top, or a long knitted cardigan, which will also look very natural.[signy_about about_title="Shoes to Wear with Skinny Jeans" about_title_size="20px"][/signy_about]
When you're asking yourself "what should I wear with skinny jeans?", don't be afraid to pair your jeans with above-the-knee boots. They will look surprisingly good with the long shoe top, because in such combination you can only see a small part of the leg. Knee high boots will also be a fine solution. During the summer days, there's nothing more sexy than a couple of super-skinny denim jeans paired with bare-skinned flip flops.[signy_empty_space height="20px"]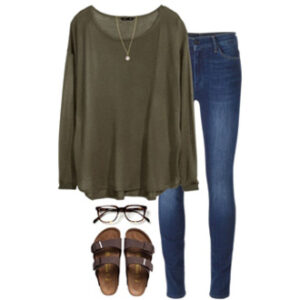 For a decidedly hip appear, top off your own skinny black jeans with some thick socks, rolled in the ankle.
Skinny jeans will look pretty nice with platform or open-toe ankle boots, the only think you should keep in mind is: don't wear to massive shoes, cause they will make your legs look like an upside-down lollipop.
Source : Pintrest