Why does a woman fall in love with her man? Is it his sparking eyes, his charming smile or his quirky sense of humor? Perhaps. But it could just as easily be his awesome jeans. Some women bypass the boy all together and have amassed a personal collection of no strings Boyfriend Jeans. However you source them, learning new and better ways to wear them can make it easier to put them into heavy rotation within your wardrobe this – or any other – season.[signy_about about_title="The Benefits of Boyfriend Jeans" about_title_color="#0a0a0a"][/signy_about]The great thing about Boyfriend Jeans are also their biggest downfall – they're at their best when you're just relaxing, having fun and getting in touch with your inner tomboy. Let me put this bluntly – these jeans will never work for going out on the town or walking in to Casual Fridays at the office. Having said that, they're no One Trick Pony either.[signy_empty_space height="2px"]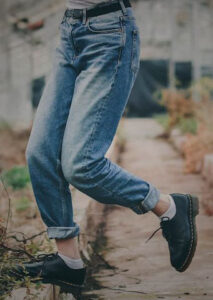 One of the best things about these kinds of jeans is that they are roomy without making you look big, comfortable without coming off as sloppy and they have deep pockets which means you can stash your phone, chap stick, a pocket mirror or whatever your Must Have items are, without having to carry around a purse or worry about strange bulges around your hips.[signy_about about_title="How to Wear Boyfriend Jeans" about_title_color="#0a0a0a"][/signy_about]While Boyfriend Jeans are strictly casual they can be dressed up a bit for a fun day out. Match your jeans up with a fisherman's sweater and clunky boots for a cozy winter afternoon, pair them with a t-shirt for a concert or throw on a button down shit, scarf and blazer for the bohemian professor look.
Want to wear Boyfriend Jeans to a family function? They're fine for any semi-casual get-together which, in some families, includes holiday dinners. These jeans are easy to dress up with a smart top and a few accessories. Pair the jeans with a form fitting top, matching strappy shoes and well chosen accessories and you instantly elevate them. While the jeans are normally rolled up a bit, wear them fully rolled down to enhance them more. It's worth noting that since Boyfriend Jeans are made with men in mind, they can run long, so using them this way may require calling on your inner seamstress in order to tailor the cuffs to perfection.[signy_double_images sgny_double_image_one="http://35.156.136.129/wp-content/uploads/2017/09/BoyfriendJeans-outfit1.jpg" sgny_double_image_two="http://35.156.136.129/wp-content/uploads/2017/09/BoyfriendJeans-Outfit.jpg"]
Simply put, wearing boyfriend jeans is just about the easiest fashion decision you'll ever make. They're comfortable versatile and crazy easy to take care of. While they are built to be tough, they're also quick to wear to softness and within a few weeks, you'll be surprised at how much they adapt to your curves. They can be dressed up to fit in with semi-casual gatherings and are, of course, ideal for long walks in the park, playing in leaf piles or just relaxing with friends. They're stylish, comfortable, versatile and hassle-free – what more could a fashion diva ask for?
Source: Pintrest